I am teaching an embroidery class this fall, and it needed to be a piece that could be completed in 4 hours which includes instruction/practice time. I chose to do a small grass scene that was embellished with wheat stalks and some cow parsley. I have taken pictures of my progress for you all, and it all went just fine until I decided to add a few details with several felt pens. Wait till you see what happened. :-(
To begin, I find the picture I like, then I trace it out. I used a composite of these pictures: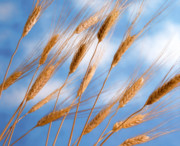 I did a rough line drawing of a blob (seriously), then I added some shooting grasses and wheat stalks. Several circles within the blob helped me to decide where to add the cow parsely. You want to see the drawing? Seriously? Here it is:
Nice, isn't it?! This is really the picture I used to start the process.
Tip!
I use these $1.00 Christmas lights and chuck them under my sewing table as a light source to trace the design. I use a disappearing pen (the purple kind) to make my marks. You may not see my marks, but I'm sure you can see how well these Christmas lights work as a light source..
I started freehand sewing with the darkest colour. I used a dark green in the bobbin and top—this may or may not be important to you. It depends on whether you have your bobbin thread showing on the top. I like that look, so I get a variegated look . The darkest colour defines the shape and helps to create depth as the piece evolves.
The second colour I added was a mid green on top and the same dark green thread in the bobbin. The use of a different green continues to add depth and variation in a piece. My rule of thumb is to add 3 colours at a minimum to make the piece look realistic and give that 3D quality to a piece. You can probably still see the purple markings I am using as a reference.
After the mid green colour was added, I added an acid green to give the grass some light and used the mid green colour in the bobbin. Looking better…
Finally, I added the last green—a very, very pale green with a yellow thread in the bobbin. I then took 'stock' of the picture (pun!) and decided that the grass was good the way it was. I then started to add the light brown wheat stalks here and there. I used the same brown in the top and bobbin. These were on the original picture in some fashion and I used the source picture only as a reference.
The final stage was to add the cow parsley. Below you can see how I add each flower head. When I finish a group, I do not snip the thread, but just lift the presser foot and move on to the next area. When I completed all of the cow parsley, I then used small, sharp embroidery scissors and snipped off the connector threat.
At this point I thought I would add a few highlights with felt markers. I had some areas where the very light green really stood out and I used a dark green marker to colour it in. Man, did I feel smart!! And it looked great when it was done. It was then that I made a FATAL mistake. I misted the piece to iron it flat and that little bit of felt marker bled from the thread onto the white background. Bled. Really. Badly. I thought I could save it by adding more grasses at the bottom of the piece. That went OK, but see the blob on the left (about halfway up)? I decided to try and paint that out 'just a bit' with white paint. Sheesh, just writing that I am wincing. What a disaster!
Only to you, dear readers, would I show this horrible piece. My only excuse is that it was after midnight last night and I was exhausted. I made one bad decision after another, adding more white, then a light green, then more white, etc… Here is the end result.
And a close up just to REALLY let it sink in.
At that point there was nothing—NOTHING that could have saved this piece. So I took a deep breath and started again. I decided that I needed a coloured background because white was too boring, and I quickly colour washed a new piece of fabric with a very, very light green. I cannot get the true colour to show here and it looks very yellow. But the colour looks more like the paint chip beside it, except mine is a bit lighter:
I did all the same steps as shown above and here are a few pictures of the finished piece. I finished at about 2:30am and by 10:30am it was at the shop. Tomorrow morning class registrations starts and I just got this in on time. Nothing like using every last second to work on a piece!
I'm happy with this one.. Hopefully the purple marks will disappear before tomorrow, but I cannot fret any longer. It is done. Put a fork in it..
PS—it took me 33 minutes to make the second piece. That included photos, threading bobbins and ironing.